Getting to Pittsburgh
The decision to enter the 2013 IBR was harder than 2011, we knew what we were signing up for this time. In the end we took a deep breath and said, "why not?"
We were in good company, another three members of the BMW North East Florida club were also selected. Larry Meeker, Rony Baenziger, and Keith Keating.
Preparation this time was easier, we were running the same bikes in the same configuration, no changes at all, Kathy has a 2010 BMW R1200GS Low Frame that has been converted to a GSA tank and I have a 2011 BMW R1200GSA. Since the last IBR Kathy has been selected to conduct product testing for Klim, so she was all set with a Latitude suit. I stuck with my Yellow Kilimanjaro jacket and Darien Pants.
Our bikes were serviced by BMW Jacksonville, we gave clear and precise instructions "do whatever you have to do to ensure that nothing breaks or needs servicing in the next 14,000 miles" (no pressure), Kenny came through for us.
When we arrived in Pittsburgh we had our first clue of the rally theme, the poster showed a historic plane, train, and car. It looked like the bonus points would be related to transportation is some way or another.
We arrived early so we had a couple of days to relax and socialize before the rally, we rode over to European Motorcycles on Friday afternoon and had new tires fitted, rode back to the hotel and put UltraSeal in the tires (we are often asked if Ultraseal works, the only thing I can say is "I don't know, we have never had a flat when we have been using it", but then again after 100,000 miles, I guess that means it works).
Saturday was registration and tech inspection, our paperwork was in order and both bikes checked out with no issues, we then rode a 30 mile course to check the accuracy of our odometers (this is a required part of tech inspection).
Leg 1
The rally packet was distributed at the opening banquet, I was rider #15 and Kathy #16. As soon as the packets were opened most riders made a dash for their room to start planning a route for the first leg.
The first task is to plot the bonus location on a map.
I use a spreadsheet to organize the bonus points and then import them into a mapping program.

A square means we can go to the bonus anytime, a circle means during daylight hours only, and a triangle means that there are specific times and/or days when the bonus is available. I also divide them by value, red is Very High, Yellow is High, Green is Medium and White is Low value.

The next task is to develop a route that 1) puts us at bonus points when they are available, 2) we can execute without having to speed, or go without sleep, and 3) earns more than the suggested minimum number of points. Also, we prefer to book our hotels before we start the leg, we find it reduces stress and provides a definite target for the end of the day. It's amazing how a clean bed and a shower takes on a whole new meaning after riding 18 hours.

It soon became clear that there was no obvious route, no single bonus that would make up a significant part of the required points. There was a relatively high point bonus at the Henry Ford Museum in Detroit that required 25 photographs of exhibits, the big question was how long would it take to get in the museum find 25 different exhibits, take a photograph of each one, and get back to the bikes.

The suggested minimum points for leg 1 was 14,000, we decided on a conservative plan that would give us just over 15,000.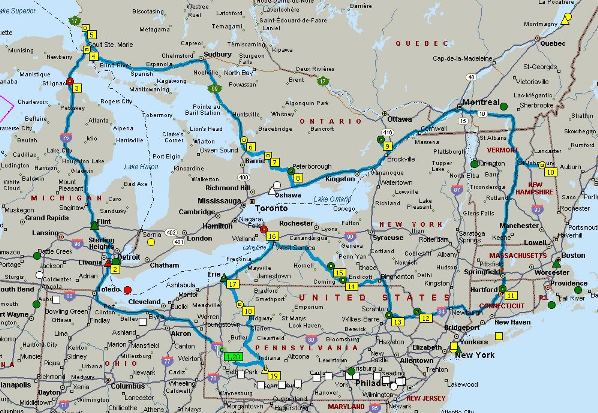 Our route took us up through Michigan into Canada, over towards Montreal, down into New Hampshire, back over to Niagara Falls, and then down to Pittsburgh. The planning was completed, and bags packed, by about midnight so it was time to get some sleep.
Monday morning we were out by the bikes by 8:00am, after this time the bikes are impounded until the start.
Here we are before the start listening intently to words of wisdom from Tom Austin, the engineering brains behind the rally. (Photo - Tobie Stevens)
Triumph Bob and Fred Veator from BMWNEF traveled to Pittsburgh to wish us well and watch the start.
Ready to go! (Photo - Jim Frens)
The rally started at 10:00am on Monday, (video of the 96 riders leaving the parking lot), and we had to be back at the same location by Thursday 6:00 pm for scoring at the end of the first leg.
We started the rally in rain which rapidly turned into torrential rain, by the time we reached the first bonus at the bonus at the Henry Ford Museum everything was wet. We were impressed that the volunteers at the museum offered to store of helmets for us while we ran around the museum, we heard later that they were trying to minimize the trail of water that 20-30 motorcyclists we were leaving. It took an hour to get all the photos. This museum is definitely on the list of places that we need to visit again when we have time to look around.
We stopped for the night at Sault Ste Marie and crossed into Canada at about 04:30 on Tuesday morning, there were no issues at all with the border crossing. We continued to collect bonuses in Canada, during the day and we crossed back into the US in Vermont late on Tuesday night. We did get a second look from the border protection officer when he realized that we crossed into Canada early in the morning at Sault Ste Marie (about 900 miles) and that we were headed to Littleton NH that night (another 150 miles).
After another six hours rest we arrived in at the bonus in NH at sunrise (Wednesday), while looking for the train that we needed to take a picture of we took an excursion through a muddy parking lot during which I managed to lose my footing and down went the bike, the nice thing about having an adventure bike is that it is designed to withstand the effects of falling over so all I did was laugh and try to figure out if the bike was close enough to the bonus to put my flag on my sleeping bike and take the required picture, unfortunately it wasn't. Kathy helped me get the bike vertical again and we were back on the road.
The last bonus on Wednesday required that we ride that aerial car at Niagara Falls, which is on the Canadian side. This border crossing was very different from the one the day before, LONG lines. We asked if there was a NEXUS lane and was told that there wasn't, but what they forgot to mention is that there was a separate bridge for NEXUS card holders.
Wednesday night was the rest bonus, which means we get to stay off the bikes for eight hours and earn bonus points while we are resting and sleeping. We checked in to the Hampton Inn near Niagara Falls and found that we had been upgraded to a suite with heart shaped jacuzzi, I had to own up to the fact that I hadn't arranged it. So here we are with eight hours to use and a heart shaped jacuzzi, well you can guess what comes next, yep, we throw all our stinky riding gear in it and use it as a wash tub.
Early Thursday we cross back into the US and head to a bonus that can only be collected on July 4th, we then head down towards Pittsburgh. We arrived back earlier than we expected so we drove out on the PA turnpike and picked up some more bonuses and then turned around when we ran out of time.
Scoring was painless and neither Kathy or I left any points on the table (leaving points on the table means losing points for not properly documenting a bonus).
After leg 1 we were in 44 & 45th place with 15,880 points having ridden 2880 miles in just over three days. We both knew we could have done better, however, this is a marathon event and there can be a high price to pay for burning yourself out on leg 1.
While we were waiting to be scored we heard that Larry Meeker had crashed but there was very little information about his condition.
Leg 2
The leg 2 packets were distributed at 6:00 am on Friday, we had until 4:00 pm on Sunday to get from Pittsburgh to Sacramento and pick up at least 11,000 bonus points on the way. Given the short time for this leg, the bonus point map was not surprising.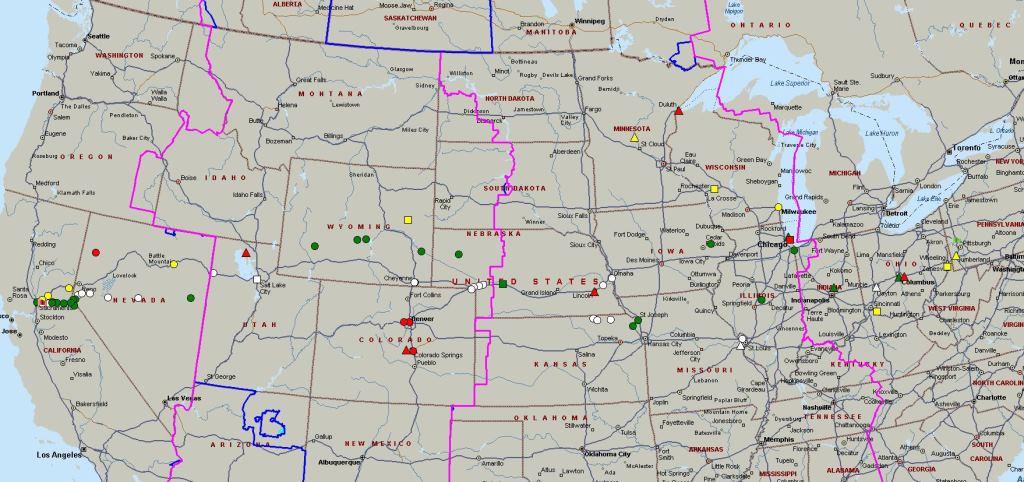 There were two basic options, 1) go to Pikes Peak, or 2) follow the path of the Pony Express and pick up 34 smaller bonuses. There was a major combination bonus for successfully getting all of the pony express bonuses. We decided to pick up a couple of bonuses close to Pittsburgh and then head cross country to Pikes Peak.
We were on the bikes by 8:00 am, this met our goal of 2 hours maximum for entering the data and planning the route, it looked like there were more than half the bikes left in the parking lot when we rode out.
We arrived at the Ranger Station at the bottom of the road to Pikes Peak at about 9:00 am. The bonus required that we get a picture of the tram while it was in the station at the top, so we had to get up the hill in a hurry to make sure we could get the picture before the tram left, there would be a three hour wait for the tram to get back up there if we missed it.
We arrived at the top (14,000+ feet), found that the tram was still there and took our pictures. This is where the fun started, both Kathy and I were feeling dizzy from the altitude (along with everyone else I think) and not really thinking straight. The requirement for the bonus was that our bikes had to be in the picture and the bike "had to be recognizable", I clipped my flag to the back of my bike and stepped back a few feet to take the photo. Kathy put the flag over her windshield and then leaned back to get the flag and tram in the shot.
We then headed down the hill, after the first turn on the switchbacks (still at 14,000') I had this sinking feeling "where is my flag??", I unzipped my tank bag where its normally kept and took a quick look – no flag – I then felt over the back of the bike and there it was. Ok, no problem, all I had to do was recover the flag. I stopped the bike, put down the side stand, stepped off the bike, and watched as my bike ran down the hill. Fortunately it only went about 12 very long feet and then fell over. Since my tank bag was unzipped all the contents were distributed across the road. I kicked the contents to the side of the road as quickly as possible to allow traffic to pass and then set about picking the bike up, the wheels were now in the soft mush at the side of the road and as I lifted the bike up it started to slide again even though the brake was on and the front wheel was locked. My only thought at this point was "it just gets better and better!". I manhandled the bike somewhat crosswise the hill and stamped the side stand into the dirt, this time I remembered to leave the bike in gear (see if I ever forget that lesson again). I got everything straightened out, took a deep breath (well as deep as you can at 14,000') and tried to get out of the mush and back on the blacktop – no luck, the drop off was at least 6", the front wheel was not going up it and I had a decent rooster tail from the rear wheel, the result of which was to start sliding down the hill again – sideways. I finally found a place where the drop off was a bit less and got back onto the road.
When we had left the park we rode past the now VERY long line to get up to the peak, we realized that had been been an hour or so later getting to Pikes Peak we may have been there all day, a narrow and lucky escape.
We headed north to pick up a couple of bonuses near Denver and then headed west on I80 through Wyoming, we stopped for our 8 hr rest bonus in Evanston just short of the Utah border.
The rest of the ride to Sacramento was uneventful, although about lunchtime we realized that the last part of the ride was from Lake Tahoe to Sacramento, on Sunday afternoon, at the end of the 4th of July weekend, fortunately we didn't leave it too late in the afternoon and the traffic wasn't too bad. We arrived in Sacramento with a hour to spare so we decided to pick up one of the Pony Express bonuses in Old Sacramento.
Once we arrived at the hotel we took a quick shower and then officially stopped the clock before the start of penalty time. There was some discussion about a couple of Kathy's pictures but they were accepted by the judges. Kathy transposed two of the numbers in an odometer reading which cost her a 25 point penalty.
After scoring on Leg 2 we had improved to 38 & 39th place and scored 21,103 points, significantly more than the 11,000 recommended minimum. We now had a total of 36,983 points and had ridden 5752 miles.
After scoring we went down to see the other riders arrive and were just in time to see Keith Keating being loaded into an ambulance. We were told at the time that he was severely dehydrated after crossing the desert.
Leg 3
We knew that the available points on Leg 3 would be probably be significantly greater than the first two legs and this was confirmed when the packets were distributed at 6:00 am on Monday. We were told that we should aim for 60,000 points (total for the rally) to be a finisher.
When the bonus map was created there were bonuses from one end of North America to the other, the first choice was go north or south, i.e. relatively cool or inferno. It was tempting to go north, but we soon decided that southern route offered more opportunity for collecting bonuses.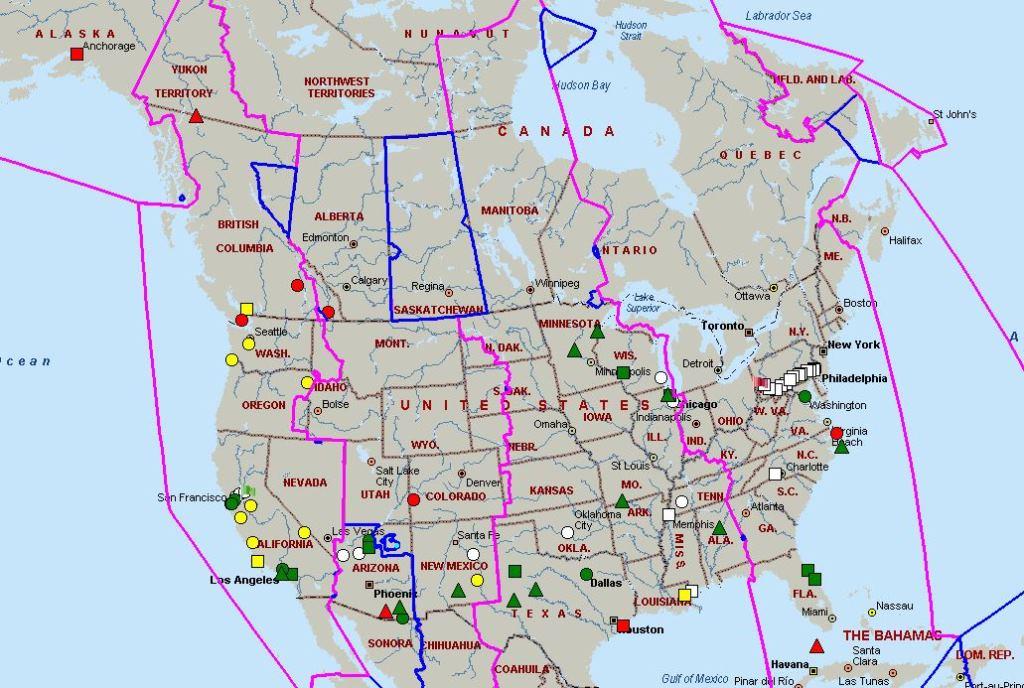 We decided to pick up the major bonuses, one in S W Colorado, then the Ferry in Galveston, TX, and Kitty Hawk, NC. There were other bonuses along the way including Roswell NM and the bridge in New Orleans. We had to be back in Pittsburgh by 8:00 a.m. on Friday.
We picked up a bonus near Sacramento then headed for Colorado, we had a choice of going through Yosemite and risk being held up by tourist traffic, or go around. We decided to take the scenic tour.
Hwy 120 in California has some interesting features, when you pass the sign that says "dips" its a good idea to slow down, which unfortunately I didn't.
The following picture doesn't do it justice, the dip appears out of nowhere (despite the warning sign) and road just drops out from underneath the bike, the fact that as we reached the dips I was restoring blood circulation to lower extremities by standing on the pegs resulted in a situation where the bike was coming unstuck from the road, my feet were off the pegs, and I was hanging on the the handlebars with a death grip, at the same time I was suggesting to Kathy on the radio that she might like to slow down before she followed my example (those may not have been the exact words). This was followed by a sickening bang as I hit the bottom of the dip and the suspension bottomed out. Looking at all the scars in the road I was not the first person to be caught out.
The ride across Nevada on US 6 was very quiet, in fact we didn't see another vehicle for hours at a time. The road is probably the longest stretch of dead straight road I have ever seen.
This road has been nicknamed "Lonelier than the Loneliest Highway", (the "Loneliest Highway" is US 50).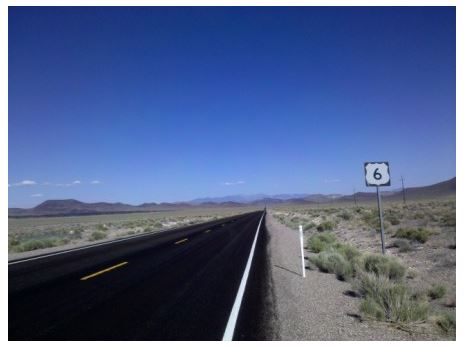 We stopped for the night in Moab and realized that going through Yosemite had cost us about two hours that were going to have to make up. We needed to be at the next bonus as near to dawn as possible so we cut our normal 6 hours stop down to 4 hours and had an early start. We were riding through back road twisties at night with low beam, high beam, PIAA HID's, and LED Aux lamps all turned on. We both realized we were well off the beaten path, on our own, and this was not a place to run off the road – we rode accordingly. Once the sun made an appearance riding became much easier.

Up until this point in rally I had been sure that our tires would last the entire rally, after all they were the same tires that we used in the 2011 rally when we finished with tread left. What I had not taken into account was that the 2011 rally was almost all freeway and on this rally we were cranking and banking for hours at a time on back roads with potholes and highly abrasive surfaces. I looked at my rear tire and saw that I was down to the wear indicators with several thousand miles to go.

We worked our way through Texas on back roads and after another night's stop in Sweetwater we arrived at the Galveston Ferry. We waited in line on a concrete slab, in the sun, for about 45 minutes, then sat on the ferry on a black steel deck, in the sun, for another 30 minutes. After we got off the ferry the next hour was basically slow beach traffic, in the sun. (There is a theme here). After another 20 minutes of slow traffic Kathy made it plain that we needed to stop, NOW. We took a break in the first building we saw (McDonalds) and we sat there for about an hour until Kathy had cooled off. Feeling better we climbed on the bikes and … my bike stalled as soon as I put it in gear. After a few minutes of investigation and a call to Kenny at Jacksonville BMW I saw that the circlip that holds the kickstand switch in place had fallen off and that the switch had worked its way out of engagement.  I pushed the switch back and added a zip tie, the technical problem was solved but we had added close to another two hour delay.

We decided we had no choice but to drop the New Orleans bridge bonus and cut the rest bonus from 8 hours to 6 hours if we were going to make it to Kitty Hawk and the last checkpoint, especially since I now had to get my rear tire changed. During the rest stop we read that Rony Baenziger was out of the rally with technical problems, this was a reminder that the only time that we could count on finishing was when we reached Pittsburgh. We were back on the road at 4:00 am.

We called ahead to Capital BMW in Raleigh NC and made arrangements with Jon Ross (Service Manager) for the tire change, when we pulled up they immediately put my bike on the lift and started work. They provided drinks, food, and a couch. We were back on the road in 40 minutes and I cannot say enough about the fantastic service. When we left the dealership in Raleigh it was 3:00 pm and we still had about 750 miles to ride before the next morning.

As we headed to Kitty Hawk we were riding along side the most ominous black cloud we have seen in a long time, we managed to miss a lot of the rain but were caught in a downpour for about an hour. We we arrived at Kitty Hawk we took the required picture, and headed for Pittsburgh, straight back into the storm. Then it rained, and rained, and rained, at one point I thought we would be stopped by a flooded road but the police were still letting traffic drive through the flooding.

It continued to rain off and on all the way to Pittsburgh, progress was much slower than expected. We finally pulled into Pittsburgh at about 3:50 a.m. tired but happy. We had been riding for the past 24 hours.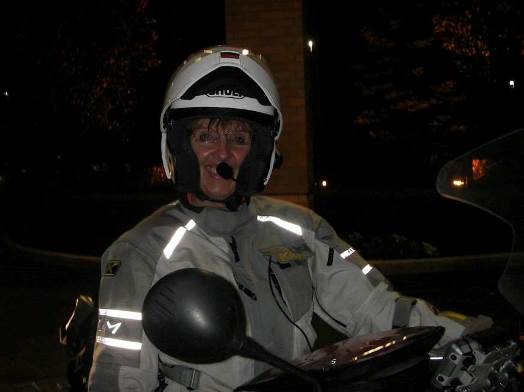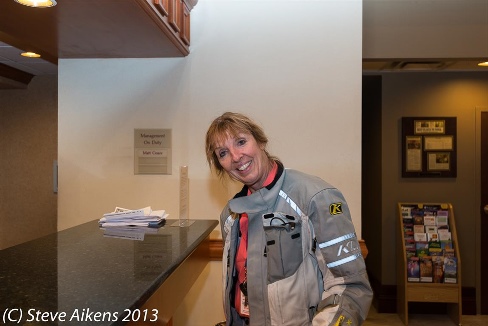 The smiles say it all.
During the 4 days of Leg 3 we had ridden 4,329 miles.
We checked into the hotel and took a well needed shower, then officially stopped the clock and waited to be scored. Scoring was quick and painless and we knew that we had 70,883 points however we would have to wait for the banquet that night to find out what position that would put us in, we hoped that we would improve on our 2011 finish and that we would be somewhere close to 30th position.
The banquet was a time for relaxing with good friends, after dinner Lisa Landry (Rally Mistress) started to call up finishers in reverse order, we were ecstatic when Lisa reached 29th position and we had still not been called up. Kathy was called up at 27th place and I was 26th, both are Silver Medal finishes. We were extremely happy with our overall performance.
In the 11 days of the rally we had ridden 10,081 miles.
There seems to be a misconception that IBR riders ride all night and ride at excessive speeds. Kathy and I stop for 6 hours almost every night, check into a hotel, and get some sleep in a comfortable bed. We find that this allows us to ride further and make less mistakes. We try not to go more than 10% over the speed limit, we don't use radar detectors and we didn't get a ticket during the rally. Limiting excessive speed is made much easier by the "Very Expensive, Ultra Reliable, Audible Speed Warning Device" a.k.a Kathy.
Home
On Saturday morning we got Kathy's rear tire changed at the BMW dealership in Pittsburgh, great service once again. While we were waiting for the techs to finish up Kathy managed to fall asleep on the counter,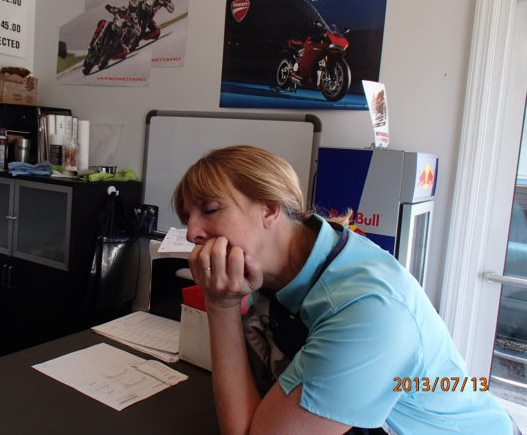 after falling off the counter she decided it was safer to find a spot outside. (photos by Ian McPhee)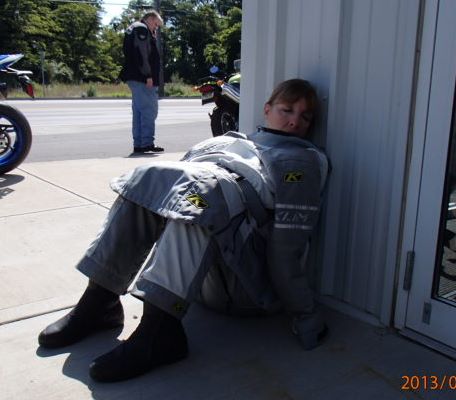 The ride back to Florida was blissfully uneventful although once again it rained, and rained, we rode straight through and put the bikes in the garage about midnight.
Gear review
Our BMW bikes just kept on running, thanks in no small part to Kenny at BMW Jacksonville.
Kathy's Klim suit kept her dry in spite of torrential rain (we don't use rain suits, in fact we don't even carry them with us), and she was reasonably comfortable in 100+ deg F temperatures, or at least as comfortable as you can expect to be at those temperatures.
My fashion conscious Kilimanjaro Jacket (bright yellow) didn't let in a single drop of water, and helped to make sure that texting and otherwise distracted drivers still saw us.
There were no punctures, Ultraseal did its job again.
The Shoei NeoTec helmets were a bit of a disappointment compared to our previous MultiTec, there appears to be less room in the ear cavity, and they are definitely noisier, however, the built in sun visor is a MAJOR benefit and eliminates switching visors at dawn and dusk.
Thanks
Kathy and I very much appreciate the great service and support we received from BMW Jacksonville, BMW Pittsburgh, and BMW Raleigh
Thanks to family and friends for kind words and encouragement that we received during the rally, if we didn't respond to your e-mails or if the responses were short to the point of being rude, we hope you understand that we were a little pre-occupied at the time.
IBR 2015 ?? Maybe
(For more information and complete copies of the bonus listings go to: http://www.ironbuttrally.com/IBR/2013.cfm )